Keenan Evans, who has been the star of this season in Zalgiris, answered TrendBasket's questions before the exciting game in Turkish Airlines EuroLeague round 17 between Zalgiris and Fenerbahce Beko.
A photo blogger who can dribble: Keenan Evans | TB EXCLUSIVE
Interview: Baris Cevahir, TrendBasket
Röportajın Türkçe versiyonu için buraya tıklayabilirsiniz.
---
A calm and cold winter day in Kaunas. The fans that surround the Zalgirio Arena are waiting for this week's game with their hopes of being in the Final Four which will be organized here in 2022/2023 EuroLeague season. After we arrived the arena, we meet with former Texas Tech guard, who have been playing in Europe for 4 years.
A nice basketball conversation starts at the time that we agreed with Keenan Evans.
College, streetball, photography, EuroLeague, a father who was olympian high jumper and his son who has started to make his name in Europen basketball…
Have a good read!
---
How is the season going so far? The first half of the season has already been done and we are about to go to the important days of the season. As a team and individually, what would you like to say about the season?
"So far, we had a good start. Especially, after the season I had last year, I think we have done a really good start in the first half of the season. There is another game for tomorrow.
We will start the second round. Individually, you know, I had some success in the first round of the league. I wanna turn it up little bit more and get the mid-season. We just keep to the work. We can make a push because this playoff race is really crazy this year. So we can do it."
#EuroLeague'de 15. haftanın MVP'si Keenan Evans seçildi!

▪️ 32 sayı
▪️ 4 ribaund
▪️ 4 asist
▪️ 39 PIR

— TrendBasket (@TrendBasket) December 24, 2022
And tomorrow you will face Fenerbahce Beko. They are one of the toughest teams in all of Europe this season. What will you say about playing against them?
"They are so well in each position. It makes them such a good team. They play so well together. They are such a good team. They have great a coach and great players. Definitely, they are a really good team, I can say."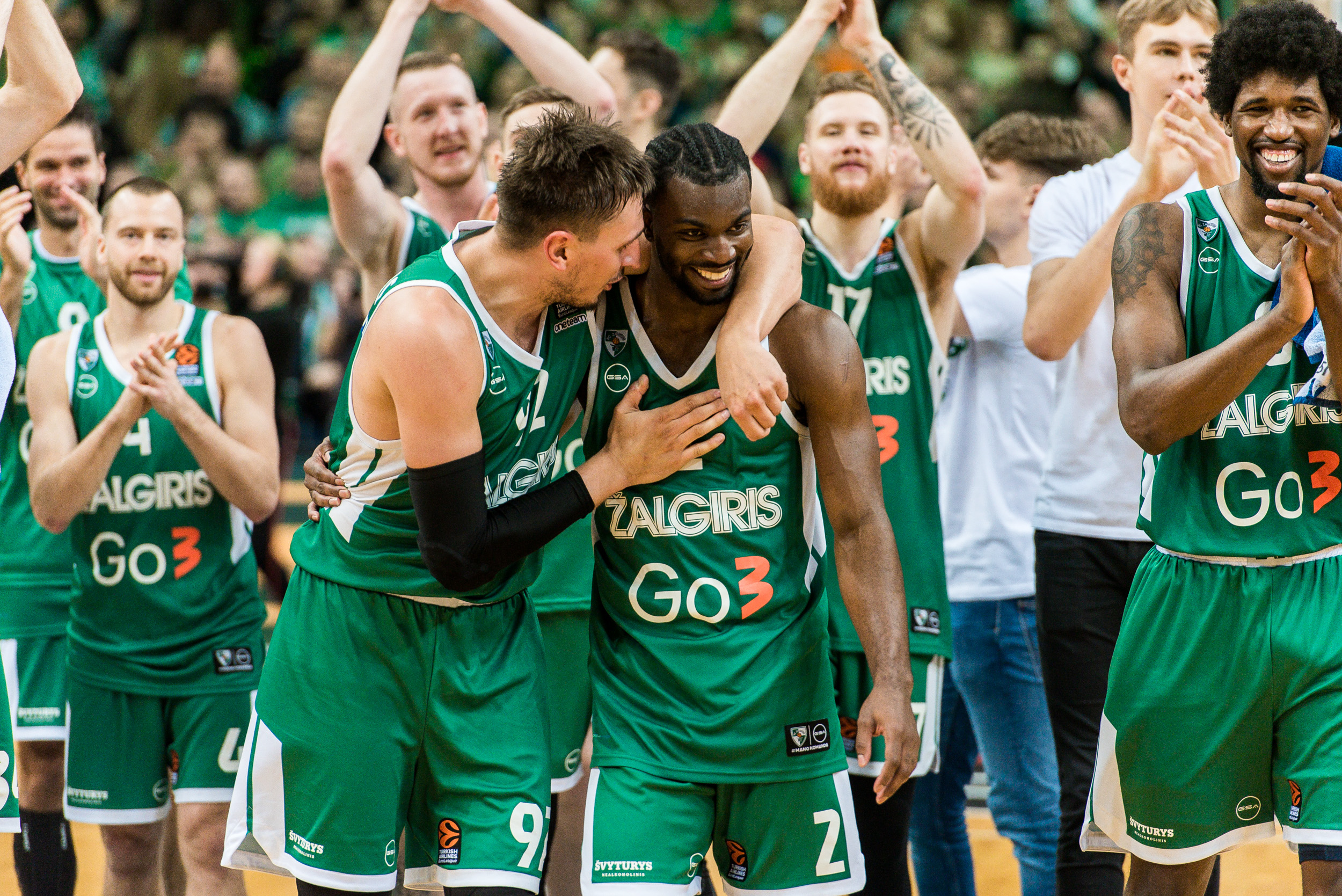 I have to ask that also, how is playing in front of these Zalgiris fans? We know that you know well kind of that atmosphere from NCAA. But this is something different. How do you explain these fans to your friends in the USA?
"It is amazing, man. I say to them that it kinda reminds me of Texas Tech fans but, it is different. You know, it is a different atmosphere but, almost the same. Just the culture is different. It is really crazy.
I was telling one of my teammates the other day that every time when I warm up, when I am like in the gym, I got chill every time that names are being called. They do Viking clap. I just get chill every time.
Such a pleasure to play in front of them. They support us strongly. Not a lot of teams do that. It is, actually, really amazing."
As we said NCAA, during your college times you were, maybe, the toughest guy in the league and your conference. Once you confirmed that you played with a broken toe at the end of the season. Was it true? And can you compare EuroLeague with NCAA or US' -NBA or G-League- competitiveness?
"First of all, it was true. It was my last season. We were in such a great season. Then, the doctor was like you can make it worse if you keep playing on it. So, I just continued to play. I had taken pain pills and stuff to keep to pain tolerance down. It was tough, man.
But, you know, it was also fun. I probably do it over and over again if I could because we made it in playoffs. That year, that time it was amazing.
And, about comparing college to EuroLeague, I do not think we really can. It is a different environment, colleges are really different. Overall, the season here is much more physical. And the school I played for, we were also a physical team but here it is much more physical.
You know, G-League, also NBA, you can see you can score more points. Sometimes there is some hard defense. But most of the time it is just like score and score… It is totally different. Also, rules are different too by the way."
And you had a buzzer beater in Texas derby against Texas in your senior year. It was like Michael Jordan's the shot. Was it with the broken toe also?
"No, no… (Laughing) That was like, probably, two games before."
Texas Tech survives in INCREDIBLE fashion.

Keenan Evans finishes with a career-high 38, including this game-winner: pic.twitter.com/ZpaKuosujw

— Sports Illustrated (@SInow) February 1, 2018
You are coming from Texas. Texas have been had great NBA players all the time. Who was your idol when you started to play the game and growing up in basketball?
"When I started to play basketball first, I think, they were players that, I don't know that do you know 'And-1', it was like kind of streetball thing in the US. It was like pretty big. It was like kind of Harlem Globetrotters. But in a cooler version.
Kind of those players I can say that. I was watching all of the videos all day and I started to learn how to dribble the ball. Then I turned on the TV, I watched Allen Iverson. I think he was the first NBA player whom I got his jersey. I had his basketball shoes.
So, when I got a little bit older, I saw LeBron. It is really nice to watch LeBron. I would say Dwyane Wade, also. Chris Paul too."
You know, I have just realized that your playing style is kind of mixed of players you said. A bit Iverson, a bit Wade…
"Yes, maybe a bit of LeBron… (Laughing)"
Also, your father -Kenny Evans- was an olympic athlete. How he affected you in sports?
"He knew how hard I had to work. So, he was telling me what I needed to hear instead of probably what I wanted to hear, like I have not been aggressive enough. He tells me the truth all time. He was always truthful.
He would know always the right tone to say it. You know, some people just can you break you down like you're terrible, you had a terrible day, you are suck… But he knew how I had got the message without bashing me."
You also have a great hobbie that we know from Instagram. You take good photos with your camera and share those photos on your own photo blog. Gonna ask that how you started this and which city that you took, its photos is your favourite in photos?
"Oh man! It's tough. So, I started this past summer. And, I have made the actual account when I first came to Kaunas. Pretty much of my content, they all Kaunas right now.
But when I was in Turks and Caicos on the summer, it was really good. Really beautiful photos there. Turks and Caicos is really beautiful. Also, Mexico was great."
View this post on Instagram
Final Four will be here in Kaunas. What would you like to say about that Zalgiris has a possibility maybe to be in F4 at home. How it would have been for you?
"It would be amazing. These fans, they want that so badly. We gotta really work hard to be in playoffs. Once the playoffs, and then anything is possible. We just gotta stay focus and, you know, and make that come true.
Because if will be in Final Four, it would be an advantage for us. It is like a home advantage, that would be amazing."
You're now 26 years old. Many of American player who shined between 25-30 age in here in Europe, still have a goal that playing again in NBA. What about you? From now, in blogs they talk about your potential in EuroLeague, they talk like he could be like the main star of the league, maybe. What is your goal for next years?
"Of course, you know, always I wanna be there. Playing around family and friends, It is my fourth year at overseas since I left the country, would be fun again. The ultimate goal is, of course, the NBA.
But, my focus is here right now. If I so invested in the future I can not enjoy with my present. So I am just really trying to work hard and do my best right here. When that opportunity comes, it comes… I feel like every player wants that."
Lastly, I am going to ask that many American guards in Europe, when they got the offer from the federations they play in European national basketball teams. What do you think about that and if you have an offer from any European national federations would like to play?
"That would have been cool. You know, watching this EuroBasket last year, it was so much fun. I would love to try out one day."
Before we end our interview, we asked Keenan Evans "This or That?" and we got five short answers from him.
1-on-1 Play

or Team Play

Jordan

or Pippen
Books or

Movies

Autumn

or Spring
DSLR cameras or Film cameras